PROGRAMS TO AID HEALING- WHAT TO EXPECT-
Rosa's Yoga for Daily Practice is a 12 week program. You receive a first consultation on your present now & what goals you would like to step into & dive deeply into your authentic true self. You receive a program which is personalised & exercises which are key to your transformation & healing. You are given a workbook /journal with homework tasks to complete to bring greater success to your healing & repair. Yoga has incredible ability to heal through its anti-inflammation response of mind/body, stress reduction. The key is a return to calm state.
Sign-up & register via email, rosa@regainenergy.com.au to immediately receive access to your personalised mantra. We will send you your Yoga for Daily Practice Kit & be part of your life for the next 12 weeks, stepping you through your personalised program.
The impacts of the program include life-changing effects. Expect to achieve this as a direct result of emersing yourself into this proven program. Rosa's clients have achieved major breakthroughs in their health recovery, clients have experienced less pain, achieved better productivity levels, have felt better within themselves, more confident in their abilities just by stepping through the 12 weeks. It's the unique approach of key focus, exercises that actually work & mind-set changes which encourage & support the positive changes- Here's a few key points to consider:-
Be pain free
Pain Control & Pain Management
Learn mind-set skills
Re-Conditioning Body
Feel yourself again
Repair better & repair sooner
Reduce inflammation
12 week support
Step-by-step focus
Gain real results
Invest $4500. Learn more on program memberships, 3 months, 6 months & yearly memberships.
MANY PEOPLE'S OVERACTIVE MIND, INABILITY TO SIT STILL AND CONSTANT 'NEED' TO BE BUSY, MAY IN FACT BE ANXIETY AND THEY MAY NOT EVEN KNOW IT.
A RETURN TO CALM AND CENTRED
If you have anxiety and want support in managing it, our Anxiety Relief program can help.
Rosa's Anxiety Relief Program is a 12 week program supporting you to return to stillness & allow you to feel calm & centred. You receive a First consultation with Rosa for an hour & half. You are then sent your Anxiety Relief Kit which is divided into workbook/journal sections. By doing the program you will find peace in sitting with aids to allow you to reflect within & see yourself in this current time. Seeing what is happening & why you are responding in the way that you are responding is a great first step to calming your anxiety. In this program you are also given an introduction to proven formulas for anxiety relief, these formulas are herbal tonics which aid sleep, repair, calm & rebalance of emotions. Immediately access your Anxiety Relief Program by emailing rosa@regainenergy.com.au
Sign-up & register today for your Anxiety Relief Program kit & a date for your first consultation
The impacts of the program will be of great benefit in the following areas for you :-
Expect to achieve as a result of joining you for this program/ See testimonials of what previous clients have achieved through this program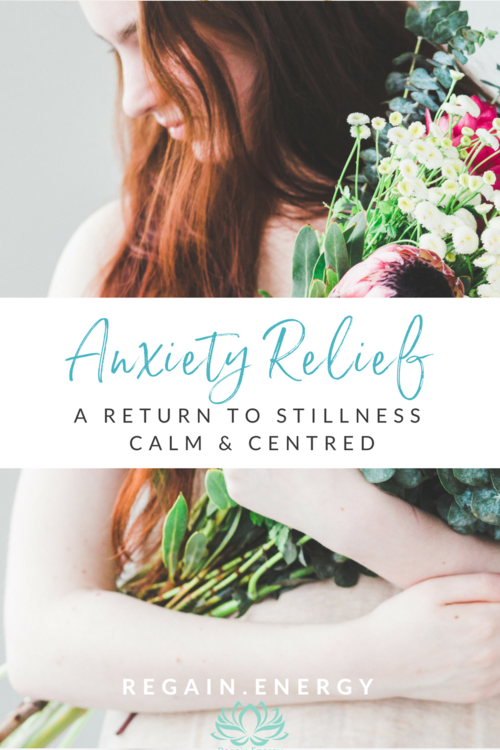 SIGNS YOU HAVE ANXIETY
Do you find it hard to sit still?
Do you go from one task to the other?
Do you find it hard to go to sleep?
Do you find your mind busy overthinking?
Do you find it hard to relax?
Do you find it hard to switch off at the end of the day?
Do you feel as though you need to be doing something all the time?
NUTRITIONAL SESSIONS TO OVERCOME DISEASE, REGAIN YOUR ENERGY & VITALITY
Eat your way to health is a 12 week Program. This is where you will re-create your relationship with food. Learn key fundamentals of nutrition, the building blocks, branch-chain amino acids, eating in balance, proteins, carbohydrates, fats, fibre, gut-mind health, probitoics, pre-biotics. Foods which provide you with energy, foods which provide you will healing & repair of injuries etc. The focus becomes what you need for you in this present state of now.
What to expect in terms of when the program will begin. Expect to have a consultation with Rosa which will go for an hour & half, an opportunity to brief about what has happened to you, your case history & what you have tried in the past, what you aim achieve & what your expectations are. You will then receive your "Eat your way to health" Program kit, the format is in journal style, you are asked key questions & you are expected to do key homework exercises to direct you in your progress.
Immediately access your workbook/journal by emailing rosa@regainenergy.com.au & lets book your consultation session in so we can get your started towards better eating & better health.
Sign up & register today.
Achieve as a result of joining for this program
Better Health
Reduced pain & inflammation
Increased Energy
Feel good on the inside
Happiness, feel happy
Reduced Stress
Enhanced quality of life
Better meal balance
Nutrient dense living
Lifestyle positive changes
Invest $4500. Learn more on program memberships, 3 months, 6 months & yearly memberships.